Beauty of the Beasts has over 750 original dog Italian charm designs (not including titles!) We have dog breed charms, dog agility, nose work, barn hunt, earthdog, field, herding, obedience, rally, tracking, rescue, and we add new charms all the time. To see our designs, please see the list of categories below and email us to let us know which ones you are interested in, and we will email you the corresponding design sheets.
IMPORTANT: Our cutoff for placing CUSTOM text or PHOTO charm orders for Christmas delivery is Nov. 29, so please be sure to get your orders to us before that date. We might be able to squeak in a couple of orders after that, but can't make any promises after that date, so better safe than sorry. Regular charm orders will be subject to availability, so we suggest ordering those as early as you can also, since we often get a run on a particular charm if someone posts it to social media. Thanks! And if you have a order you would like to place for delivery mid- to late January, please feel free to send it at any time.
Our Italian charms are beautifully produced in full color with a hard, high-gloss finish. Many of our designs are on 9mm square charms with a larger image area, allowing for much more detail than the typical 9mm charm, but fully compatible with a single regular 9mm bracelet. (Our bracelets at the top of the page show a mix of 9mm regular and 9mm square charms.)
We add new designs constantly--please
email
us to request our current design sheets for any of the following activities and themes: Agility, Barn Hunt, Conformation, Custom Text (names, etc.), Dock Diving, Dog Paws, Earthdog, Endurance, Flyball, Freestyle, General Dog Themes, Herding, Hunt and Field, Memorial, Nose Work, Obedience, Peace Love and Luck, Rally, Rescue, Ribbons, Therapy Dog, and Tracking. We have titles for any venue you need, as well as event charms (i.e. Agility Nationals from various venues, TDAA Petit Prix, and custom charms to commemorate placements and personal milestones).

We also have charms for the following breeds (both images and text): Australian Shepherd, Bearded Collie, Bernese Mountain Dog, Border Collie, Border Terrier, Belgian Malinois, Belgian Sheepdog, Belgian Tervuren, Boxer, Brittany, Cardigan Welsh Corgi, Cavalier King Charles Spaniel, Cocker Spaniel (both American and English), Dalmatian, Doberman Pinscher, French Bulldog, German Shepherd, German Shorthaired Pointer, Golden Retriever, Irish Red and White Setter, Jack Russell Terrier, Labrador Retriever, Papillon, Parson Russell Terrier, Pembroke Welsh Corgi, Poodle, Rottweiler, Schnauzer, Shetland Sheepdog, and Shih Tzu.
Since we produce our charms in-house, we can do custom text such as names (just email to request our Custom Text design sheet), as well as any title you may have trouble finding elsewhere (just email us the titles you need, and don't forget to request our Title design sheet, which shows examples of the many different background colors we offer).
We also carry 18-link starter bracelets with embossed paws for only $8 per bracelet, available in both shiny and matte stainless steel finish. Starters are perfect if you want to buy a gift for a friend who doesn't have a bracelet yet--just add a couple of colored charms and your shopping is done! A starter bracelet is also a useful add-on if you are buying a megalink, and don't have enough links to complete your second bracelet.
Please click
here
to email us if there's a favorite Beauty of the Beasts slogan or design you would like to see on a charm, or to inquire about custom photo charms of your dogs, family, or anything else. If you've seen one of our charms at a show that we don't have online yet, just drop us a line and describe it and we will probably be able to figure out what you're looking for.
A few more examples of our designs:
TITLE LINKS!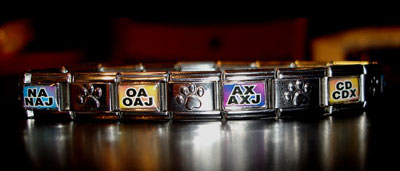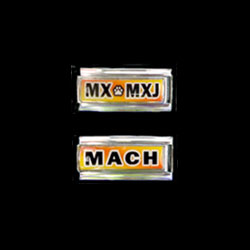 TITLE CHARMS
We have charms in the above styles for just about any title, including agility (most organizations, all levels), obedience, conformation, rally (both AKC and APDT), field, schutzhund, French ring, tracking, earthdog, flyball, and herding, and specialized titles limited to certain breeds or groups. We also do versatility titles, CGC, TDI, TDIA, and TDIAOV, and even titles from other countries. Please
email
us to request our title design sheet showing the different background colors we offer.
Titles can be done on regular 9mm photo links for $12, or double-length superlinks for $18. (Titles longer than four or five letters usually show up better on superlinks.) All charm types shown on our website are compatible with regular 9mm bracelets.
CUSTOM CHARMS--TEXT AND PHOTO
We offer custom full-color charms with your dog's name (or any text you would like). Drop us a line to request our custom design sheet featuring a wide variety of styles and sizes. Custom text charms can be done in any size for an additional charge of only $3.
We also offer custom photo charms. We can do headstudies at the 9mm square size for $20, and headstudies, full body, or action shots at the megalink size for only $25. (Megalinks are double the height of a regular 9mm bracelet and link two bracelets together, replacing two regular links on each bracelet.) Price includes cropping and reasonable photo adjustments.
Some of Beauty of the Beasts 18mm megalinks... $20 each



























SHIPPING INFO
Shipping is $1.50 for 1-4 links, $2.50 for 5 or more links by first class mail within the US. You can upgrade to Priority or Express Mail if necessary for an additional cost, please inquire if interested. If your charms are being shipped together with a t-shirt order, shipping will only be charged on the shirts. Please click
here
to email us your order.
CARE INSTRUCTIONS
Caring for your charms is easy--just polish occasionally with a soft, dry cloth. They are stainless steel, and will not tarnish like sterling. Substances such as jewelry cleaner, nail polish remover and oils from food or cosmetics may dull the finish of your charm, and should be avoided. The designs will not be harmed if your charms get wet, but avoid excessive water with any charm to keep the spring mechanism inside from being affected; also avoid twisting the base diagonally, which can weaken the bond between base and charm top. If you are new to Italian charms and need instructions for adding and moving links, we'd be happy to send you a pdf of our FAQ (it includes demonstration photos with and without a charm tool). We sell charm tools for $3... or ask an experienced friend for help.
VENDORS
The following are authorized vendors of our designs:
Clean Run Productions LLC - Shirts
Collie Rescue of Greater Illinois - Collie shirts
Doggies Duffel Bag (Louise) - Shirts
Gear to Go (Bob and Cathy Nirenberg) - Shirts
Hairy Barkers (Kim Wong) - Magnets and shirts
K Bar K (Kathie Kaufman)
K-9 Athlete Collars, Leashes & Etc., LLC (Bridget Kennedy) - Shirts
Kim Brewer - Shirts
Julie Bacon - Shirts and magnets
Lightfoot Livery (Kelly Lightfoot) - Charms and shirts
Margaret Milona - Shirts
Mighty-Mite Dog Gear (Rena Barnett) - Shirts
Precious Pets (Gayle Dalton-Smith) - Shirts
Products4Pets (Liz and Stephanie) - Magnets, charms and shirts
Sit Stay 'N Play (Lisa Kirschner) - Shirts
Tail Wagging Dogs (Lisa Kretner) - Charms and shirts
Terriertoys (Marianne Jacobs) - Shirts
The Booth (Liz Shepherd) - Shirts
WellFedK9 (Cinnamon Gorman) - Shirts
WinnerWare (Marilyn Knight) - Shirts
They can be found at agility, nose work, barn hunt, flyball and conformation events in the continental US and Canada. Other than the vendors listed above, we are the only source for Beauty of the Beasts designs.
Our designs are copyrighted, and registered with the US Copyright Office. If you happen upon anyone at a show or online who is selling our designs or slogans who is NOT on this list, please drop us a line with a description of the item in question so we can pursue the matter. (Those of you who have already done so--thank you, you know how much we appreciate you!)
Our charms are
unconditionally
guaranteed for six months from date of purchase.
All designs on this site © 1997-2017 Beauty of the Beasts and may not be reproduced in any form without express written permission.
Please email your order to beautyofthebeasts@earthlink.net. After we give you your total with shipping, you can send us a check or money order, or pay by credit card using the link below that will take you to PayPal's secure server.